Let us show you why Tree Testing is beneficial for your business and why it's the first stepping stone when it comes to a Better User Experience on your website. First, we will tell you what precisely is UX, UX research and once we get over the basics we will move to the connection between UX and Tree Testing.
What is UX?
This is a must-know term for any website owner. UX is User Experience for short. Let me quote one of the leading industry professionals that will describe what the term User Experience means: "User experience" encompasses all aspects of the end-users interaction with the company, its services, and its products. – NNGroup.
What is UX research?
UX research is all about people. You should examine how people use your product if you want to know how they feel about it. However, because there is no automatic tool that can properly score your website's usability, you'll have to test it with real users.
UX refers to a user's interaction with a product or service, such as how satisfied they are with it. In a nutshell, UX is concerned with emotions, which are influenced by the user's actions on the website. This is essential information for successful online sales of any goods or service.
End-users and their needs are thoroughly studied to gather knowledge and context. After that, it applies what it's learned to create the best website-improvement solution. Quality UX research is one of the most important aspects of developing a new product or improving an existing one.
What is tree testing?
Tree testing in UX reveals how easy it is for visitors to access content on your website. It determines whether the structure of your website conforms to what users expect it to be.
In treetesting, testers are given descriptive tasks and must choose a location where they expect the answer to be.
Why do you need tree testing?
It tells you exactly where users are if they get lost. It's a popular way for evaluating information architecture's effectiveness and usability. Let's have a look at the primary advantages.
Tree testing in UX helps with:
Improving the IA of your website

Evaluating the results of

card sorting

Finding where your users get lost

Uncovering confusion points
How are UX and tree testing connected? (tree testing as UX research method)
Tree testing can be used in various UX scenarios. Maybe your conversions are low, maybe users have trouble finding information. Tree Testing has you covered. 
We can use tree testing to get answers to problems like these:
Do people comprehend labels in the way they were intended?

Is the content divided into groups that users find intuitive? 

Is it logically organized for users?

Is it possible for consumers to find the information they need quickly and easily? 

Is it possible that they're seeking it elsewhere? 

What's keeping them from finding the information they're looking for?
You can change the structures to aim for optimal performance and discover faults with your information architecture using the acquired insights on how people interact with them.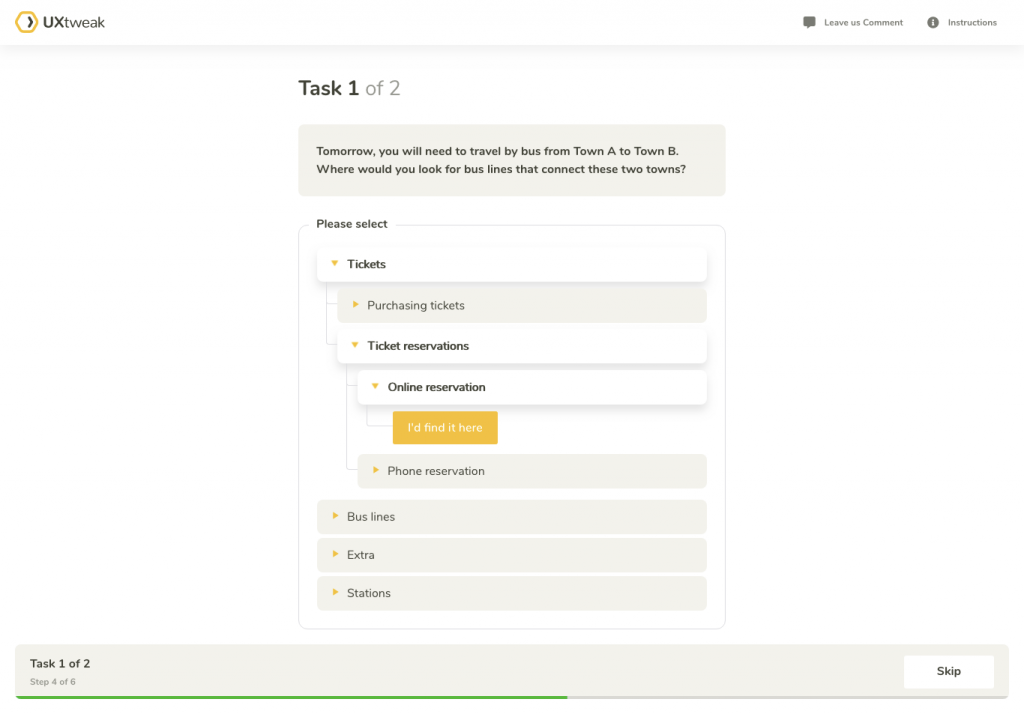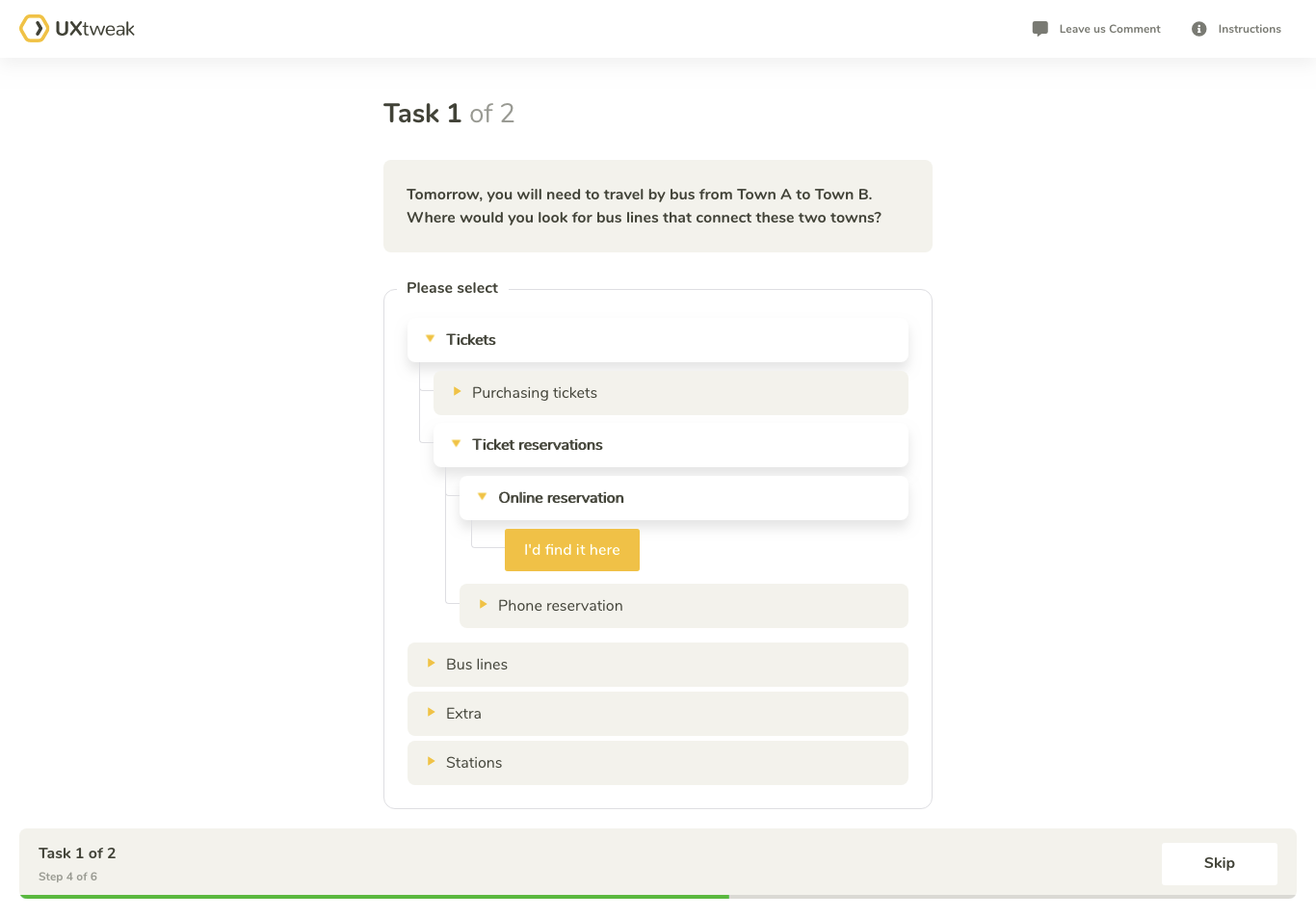 How to improve UX with tree testing?
Let us show you how to improve your UX via a Tree Testing remote study, which can be completed everywhere by everyone.
1. Set goals you want to achieve
To prepare for a tree test, you must first decide what you want to achieve with it. Perhaps you require Tree Testing for your complete website since you want to fine-tune everything to perfection. Alternatively, you might wish to test a partial information structure to see if people can find that new feature you just added.
Who will the Tree Tests be directed towards, and why?
The purpose of tree tests is to assist you in making the information structure in your designs more user-centered. Knowing who you're trying to please – the reason you're trying to improve your website or product – will help you focus your tree testing.
When will you use tree testing in the project's life cycle?
You can use tree testing at any stage of development because of its versatility. They can be used to help you make educated decisions, as well as to give data on the worth of your design improvements in easy-to-understand visualizations that you can show off to senior management or shareholders.
2. Prepare your trees and branches
After your goals have been set up, now you need to think about how to Tree Test, so your objectives can be met. 
Think about your information architecture, what you want to be displayed where, how can a user access this information, and keep in mind that you are testing. Don't be afraid to fail. Better to fail now than later when it's all been published live. 
You can use Excel, Sheets, CVS. files or good old-fashioned pen and paper to prepare your trees and branches. Choose one which suits you the best.
3. Create scenarios and tasks
The user stories on your website or product should be represented by tasks in your tree tests.
It's critical to write your tasks correctly if you want the respondents to act as naturally as possible. Respondents should interact with menus and other information structures in the same way they would in a real-life setting.
Respondents are asked to locate a piece of functionality within the tree in the tasks. Respondents' responsibility during Tree Testing is to click through the tree and locate the correct answers to the tasks you have prepared ahead of time. 
The respondent can only view the tree's top layer at first. As respondents expand category labels to see their "children", more of the tree's lowest layers become visible. Create a realistic scenario in which you place your tasks to boost the user's relatability with it. The job and scenario should reflect the tasks that your users perform on your website daily.
Tree testing and UX
Tree testing is a great research method that improves your UX in a number of different ways. With the insights obtained from a tree testing study you'll find out if your website is user-friendly and easy to navigate or is it just confusing and stresses users out. 
See how they navigate your menu, if they managed to achieve their goals and find what they were looking for or got lost along the way. And if so, where did it happen?
With all that information obtained from tree testing UX you can fine-tune your website and leave navigation problems in the past!